Download your free Wall Chart for the 2018 Russia World Cup
To help you get into the spirit of this summer's World Cup in Russia, the Churchill Knight Marketing Team has designed a 2018 World Cup Wall Chart for you to download – for free.
The Churchill Knight 2018 World Cup Wall Chart contains information on all 64 matches in this summer's tournament. This includes the fixture date, location, kick-off time (British Summer Time) and a large space for you to write the result. As the competition progresses, keep filling in the Wall Chart to see who could be playing each other in the last 16, the quarter-finals, the semi-finals and the final. The only fixture we have not paid much attention to is the third place play-off because who cares who finishes third or fourth?
Please click on the button below to download your 2018 World Cup Wall Chart.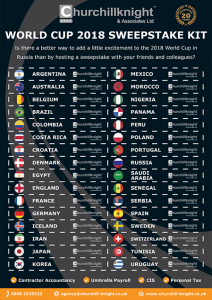 The England Squad has been revealed by Gareth Southgate
The England squad to fly to Russia for this summer's World Cup has been unveiled by Manager Gareth Southgate.
Jack Butland (Stoke), Jordan Pickford (Everton), Nick Pope (Burnley), Trent Alexander-Arnold (Liverpool), Gary Cahill (Chelsea), Kyle Walker, John Stones (Manchester City), Harry Maguire (Leicester), Kieran Trippier, Danny Rose (Tottenham Hotspur), Phil Jones, Ashley Young (Manchester United), Eric Dier, Dele Alli (both Tottenham Hotspur), Jesse Lingard (Manchester United), Jordan Henderson (Liverpool), Fabian Delph (Manchester City), Ruben Loftus-Cheek (Chelsea), Jamie Vardy (Leicester), Marcus Rashford (Manchester United), Raheem Sterling (Manchester City), Danny Welbeck (Arsenal) Harry Kane (Tottenham)
We asked some of the Churchill Knight Team what they think of the squad.
Andrew Trodden – Marketing Executive
Call me incredibly pessimistic, but it didn't matter who Gareth Southgate chose – it was never going to be a particularly inspiring squad. Now that we know who's on the plane, there are a number of players who in my opinion, are not worth a place in the team.
Fabian Delph has never inspired me and I have always considered him a very poor man's James Milner. Danny Welbeck's lack of finishing means he is definitely not somebody I want to see come off the bench. Gary Cahill is certainly past his best and I think it's fair to claim that Chris Smalling has been in better form than him over the last couple of Premier League seasons. Some of my friends have told me how incredible Ruben Loftus-Cheek is but is he? Really? He may be talented but Wilfred Zaha is the reason Crystal Palace had such a strong end to their campaign. What a shame he represents the Ivory Coast!
Looking on the upside, we have some incredibly gifted individuals in the team. Raheem Sterling is arguably one of the best attacking wide players in the world at this moment. Harry Kane is a goal scoring machine. Dele Alli on his day can create a goal from absolutely nothing. Jordan Henderson's leadership qualities are helping him become a well-respected and reliable enforcer in the middle.
A quick note for the Newcastle fans – Jonjo Shelvey not making the squad was certainly no surprise to everybody else around the country! The man joined your team because he was not good enough for any of the major Premier League contenders. When playing, he could be sent off at any minute for losing his cool and a player with that looming over them is not worth taking to a major competition. As for people saying Jamaal Lascelles should go – ha!
This years' squad is full of young talented players who have unfortunately not had the opportunity to play together regularly. However, maybe this is the start of something special and some of these youngsters can now build their England careers on the back of a successful time in Russia.
My starting 11 based on Southgate's squad would be: Pickford, Walker, Jones, Stones, Rose, Henderson, Dier, Alli, Sterling, Rashford, Kane.
What do you think of the squad? Please leave your comments below!
Who are the favourites to win the World Cup this year in Russia?
According to Sky Bet, the four favourites to lift the World Cup trophy this summer are Brazil, Germany, Spain and France. This will probably come as no surprise because these nations have always put in a strong performance when playing on the world stage. Here are the odds of the most favoured 10 nations.
Brazil (9/2)
Germany (9/2)
Spain (11/2)
France (6/1)
Argentina (9/1)
Belgium (10/1)
England (16/1)
Portugal (25/1)
Uruguay (28/1
Croatia (33/1)
Are England capable of going all the way in Russia this year?
Sadly, I think we all know the answer to this one – no. Every time a major tournament comes around, England fans try to lift their spirits and spread optimism among one and other. However, as soon as you try and predict Gareth Southgate's squad for this year's World Cup, you instantly realise that there are a number of positions in the team that nobody has cemented. For example, who will be England's number one goalkeeper? Joe Hart seriously let his teammates down in France during Euro 2016 and has understandably fallen out of favour with the England Manager. Whilst his possible replacements are very talented goalkeepers (Jack Butland, Jordan Pickford, Nick Pope), none have much experience playing in major international matches.
The problems are not limited to who plays between the sticks. Who plays in the defensive line? England have been struggling for years to find world-class replacements for the likes of Sol Campbell, Rio Ferdinand and John Terry. John Stones was rumoured to be the next England superstar. However, despite his club team Manchester City smashing the Premier League this season, he's only made 16 league appearances this year and has performed below the standard expected by Manager Pep Guardiola. The same applies to Gary Cahill who was once a reliable and dependable centre back. Now, he may even be struggling to find a seat on the plane to this year's World Cup after a collection of point-costing errors for Chelsea that have resulted in him being dropped indefinitely.
Wingbacks are perhaps a promising problem for England. Kyle Walker has been superb for Manchester City this year and surprisingly so has Ashley Young for Manchester United. There is no doubt that Ryan Bertrand is a talented player. Other central defenders have impressed in the Premiership this season, including Harry Maguire (Leicester) and James Tarkowski (Burnley). With 5 caps between them – are they ready to represent their country against the toughest teams on the planet?
The problems then continue to the England Midfield and there are a lot of questions. Jordan Henderson is a hardworking player who will always give it his all – but is he the man to provide the much-needed spark in the centre of the pitch? Raheem Sterling is now a Premier League winner who has had moments of magic this year, but can he do it in an England shirt? If Marcus Rashford plays, it'll probably be on the wing and therefore, will he be able to make a positive impact to the team? Jesse Lingard has stood out in the recent friendlies, but can he score goals in Russia?
Up top – things are looking better. We have Harry Kane who is arguably the best striker in the world right now. In Euro 2016, he looked tired going into the tournament and nobody will forget his disappointing performance against Iceland. However, with over 60 Premier League Goals since the tournament in France, he has come on leaps and bounds. If England are to make a serious impact in this summer's world cup, Kane will need to find the net on multiple occasions.
Jamie Vardy is a wonderful striker who has made a career running on to balls over the top. It is unlikely he will start with Kane, but as an impact player from the bench, he's ideal. Is it unfair to expect Vardy to have a big impact from the bench though?
The biggest problem is that the players who are in form have not spent much time together on the pitch. However gifted the individual, is it fair to expect them to perform to their absolute best when they have hardly played with the gentleman around them?
Regardless of England's perhaps generous 16/1 odds to win this summer's World Cup, we will be getting behind the lads and supporting them all the way. Come on England!
Churchill Knight & Associates Ltd is a specialist contractor accountant and PAYE umbrella company. This year we're celebrating 20 years as an industry-leading provider of accountancy and payroll and we are delighted to remain a family run business with exceptional customer service.
If you are a freelancer or contractor, setting up a limited company is a popular option and with the help of a contractor accountant, you can legally maximise your take home pay. However, some freelancers and contractors are more suited to an umbrella company and Churchill Knight Umbrella is the chosen payroll provider by hundreds of hard-working professionals.
To find out your earning potential as a freelancer or contractor, please have a go on our contractor calculator. Alternatively, please give us a call on 01707 871622.
And the winner of the 2018 World Cup will be...
We asked around the office to who the team think will win this year's World Cup.
Alexandra Cadman – Marketing Executive
Half my family's from Croatia, so I've got to back them. The team has their work cut out for them I reckon, being in a group with Argentina and taking on Nigeria for the first time. I don't know much about football, but I think we'll get through to the next round alongside Argentina – and hopefully go further, although that would be an uphill battle and a big achievement for us. Croatia as a team has not been around for that long, and since it's been 20 years since they made it even to the semi-finals in the World Cup tournament I think this is their year to go far. I do see them as underdogs especially alongside teams such as Brazil, Spain and Germany, but with Luka Modric on our side I think we'll surprise some sceptics. Hrvatska!!!
Alastair O'Malley – IT Infrastructure Technician
I think Brazil, Germany and France look like the strongest teams (as usual), any one of them could take it depending on how the fixtures pan out and I wouldn't be surprised. I like a more outside bet though so my money is on Belgium. I think they have great players who are just becoming a cohesive and experienced enough team to properly challenge the tier 1 teams.
Mollie Foster – Business Development Manager
I cannot say I am one for my football knowledge but who doesn't like to get involved in watching the World Cup and supporting your country?! Of course I would want to say I am backing England for the win but from previous years, I do not think the odds are necessarily in our favour. The favourites seem to be the usual Germany, France, Brazil and Spain but I am going to put it out there that, If Ronaldo and Messi live up to their names and work their football magic then I reckon Portugal and Argentina could be ones to look out for! Everything aside, I am going for Belgium for the win, with fresh talent like Lukaku and the brilliant De Bruyne, my vote is for them!
Liam Hulse – Sales Consultant
Unless Belgium doesn't perform exceptionally in their group, I believe Germany will have an easy path to the semi-finals. Otherwise, they will meet Belgium in the quarter-finals and might have a tough time. I don't see the other teams that could possibly face the champions at that point as a huge threat. However, the semi-finals are a completely different story because that's when Germany will probably face Argentina. I'm going for Germany to win the World Cup – they usually perform well in the major tournaments and have solid structure throughout the team with nerves of steel and if it comes down to a penalty shootout there's no beating them.