Download your free Sweepstake Kit for the 2018 Russia World Cup
What better way to get into the World Cup spirit than to download the Churchill Knight 2018 World Cup Sweepstake Kit? Download and print the free Churchill Knight A4 Sweepstake Kit and have fun with your colleagues, friends and family.
Please click on the button below to download your 2018 World Cup Sweepstake Kit.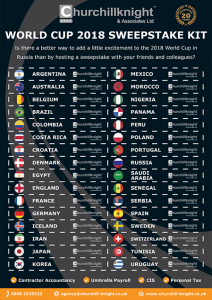 The England World Cup Squad has been announced
Gareth Southgate has announced his England squad to travel to Russia for the 2018 World Cup.
Goalkeepers – Jack Butland (Stoke), Jordan Pickford (Everton), Nick Pope (Burnley)
Defenders – Trent Alexander-Arnold (Liverpool), Gary Cahill (Chelsea), Kyle Walker, John Stones (Manchester City), Harry Maguire (Leicester), Kieran Trippier, Danny Rose (Tottenham Hotspur), Phil Jones, Ashley Young (Manchester United)
Midfields – Eric Dier, Dele Alli (both Tottenham Hotspur), Jesse Lingard (Manchester United), Jordan Henderson (Liverpool), Fabian Delph (Manchester City), Ruben Loftus-Cheek (Chelsea)
Attackers – Jamie Vardy (Leicester), Marcus Rashford (Manchester United), Raheem Sterling (Manchester City), Danny Welbeck (Arsenal) Harry Kane (Tottenham)
Standby Players – Tom Heaton, James Tarkowski (Burnley), Lewis Cook (Bournemouth), Jake Livermore (West Brom) and Adam Lallana (Liverpool)
Facts about the World Cup
Here are some interesting World Cup facts about this year's tournament in Russia and the history of the competition.
This is the first time in history that Russia has hosted the football World Cup.
There are 32 teams in this year's World Cup, but from 2026 onwards, there will be 48 nations competing in the tournament.
Russia beat Belgium/Holland, England and Spain/Portugal to host the competition.
11 cities will be host to the 64 games that will be played between the 14th June and the15th These are Moscow, Saint Petersburg, Ekaterinburg, Kazan, Samara, Volgograd, Nizhny Novgorod, Saransk, Rostov-on-Don, Kaliningrad and Sochi.
The official Mascot of the 2018 World Cup in Russia is called 'Zabivaki' who is a wolf. Zabivaka means "the one who scores" in Russian.
The Favourites are Brazil and Germany, both at 9/2.
England are 16/1 to win the World Cup.
If you pick Panama or Saudi Arabia in your sweepstake, you have reason to be disappointed. Both of these nations are 2000/1 to win the World Cup!
Argentinian superstar Lionel Messi is joint favourites to win the Golden Boot with his ex-Barcelona teammate Neymar (now at PSG). Both of these players are 10/1.
Harry Kane, England's best chance of scoring some goals is the 5th favourite to win the Golden Boot and is 16/1.
England are sadly joint favourites (9/4) with Belgium to be eliminated from the World Cup at the quarter-final stage.
The World Cup Final will be hosted at the Luzhniki Stadium in Moscow on the 15th July 2018, 4:00pm (British Summer Time).
The original World Cup trophy was called the 'Jules Rimet Trophy' and this was used between 1930 and 1970. This is the trophy that England lifted in 1966.
The current World Cup Trophy is referred to as the 'FIFA World Cup Trophy' and has been used since 1974.
Brazil are the most successful team in World Cup history and have won it 5 times (1958, 1962, 1970, 1994 and 2002).
The World Cup was not played in 1942 and 1946 because of World War II.
Over 3.2 billion people around the glove watched the 2010 World Cup in South Africa – that's 46.4 percent of the total population.
Churchill Knight is a family run contractor accountancy and umbrella company. This year, we are celebrating 20 years as an industry leading provider of accountancy and payroll for freelancers and contractors.
If you are a first time contractor or you are interested in finding out how much you could take home as a freelancer or contractor, please try our take home pay calculator. Alternatively, please feel free to give our Sales Consultants a call on 01707 871622 or use our online contact form here.
Who will win the 2018 World Cup?
The 2018 World Cup in Russia is fast approaching – but who will win? We asked around the office for the opinions of the Churchill Knight team.
Ciaran Woodcock – Marketing Manager
In the words of Baddiel and Skinner, "it's coming home".
I wish this was the case. Instead, I have never been less inspired by an England team at a major tournament. Yes on their day our attack can score goals, but when we still don't know our best midfield, goalkeeper or centre-backs, what chance do we have? Combine this with a manager who frankly I find as inspirational as beige paint then as much as I would love to be wrong, I don't think we stand a chance.
All year I felt that this was Frances World Cup to lose. Given their squad, I made them major favourites to lift the trophy. This really is the new Golden generation in France, with players like Mbappe, Pogba, Kante and Dembele and justifiably they could be anyone's pick. However the way they bottled it in Paris I cannot back them. Instead, I am backing Germany to win. They have the strongest defence and anyone of their midfield would beat almost anyone's. On top of that Werner has to be a major Golden boot contender, and for that reason, they are my pick for the tournament.
Andrew Trodden – Marketing Executive
It's a tough decision to choose a winner at this year's World Cup. Obviously, Brazil, Spain, Germany and France stand out to me (and the bookmakers) as being the strongest nations. However, all it takes is a team to prove that they're hard-to-beat like Portugal in the Euro's and all of a sudden there is the possibility of a shock.
If Lionel Messi turns up and plays like he does for Barcelona week-in-week-out, he could single handily guide Argentina all the way. I also know many people who are tipping Belgium to win this year's tournament but I personally think they have a golden generation who will sadly (for them) fail to win any silverware.
I'm going for France to win the World Cup – they usually always perform well in the major tournaments and have an incredible squad full of world-class talent.
Kevin Gardner – Sales Manager
I think this world cup is wide open, I could make a case for many teams winning it but if I had to be pushed then it would be Germany. I think with Joachim Lowe still in charge, the major tournament experience within the squad, then Germany get my vote. However, I do have a sneaky suspicion that Messi is going crack it this year with Argentina and cement himself as the greatest footballer of all time in the process.
Avess Shafiq – Account Manager
I'm hoping for England to go all the way. But being realistic, I think France are strong favourites. They have the easiest group and arguably the best squad with strength and depth in each department so should one of their star players get injured they'll have an alternative who can easily slot in. I'm tempted to pick Belgium as runners-up due to their big game players. However, their lack of experience could prove to be detrimental as shown in the Euros.