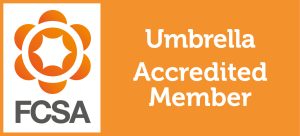 Compliant umbrella companies will process your payroll (PAYE) in precisely the same way. The only thing that will vary between providers is the margin they deduct for carrying out their service. With this in mind, it's essential that you understand the individual deductions that will appear on your payslip, and why some umbrellas will try and mislead you by offering unrealistically high take home pay.
Churchill Knight Umbrella is a member of the FCSA. This means we have been able to prove that all of our internal processes are compliant and that we provide an ethical payroll service to our clients. An excellent way to check if an umbrella company is compliant is to see if they have the prestigious FCSA accreditation.
Keep reading and find out more about the deductions you'll see on your payslip, and what to look out for when choosing an umbrella company.
We start by explaining take home pay calculations, and will then run through the deductions you should expect to see on your payslip. Compliant umbrella companies will process your pay in the same way, but some may try and mislead you into choosing their service over another provider. We will explain how below.