The annual Consumer Electronics Show (CES) took place in Las Vegas over four days, from 9 January to 12 January 2018. Calling itself "the global stage for innovation" in the consumer technology field, CES brought together a plethora of prototypes, ideas and ready-to-market consumer products.
Here are some highlights from the 2018 Consumer Electronics Show:
The new 'world's thinnest laptop' – the Acer Swift 7 (2018)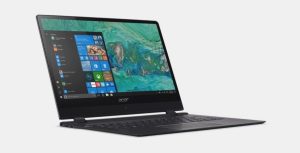 If you're an IT expert or a someone who commutes frequently with a laptop, this is sure to catch your eye.
This laptop boasts built-in 4G LTE capability, meaning you can stay connected wherever you may be. It's also shrunk down from the previous Swift 7 Ultrabook model of 10mm thickness to 8.98mm. According to Acer, this makes the latest model the thinnest computer in the world.
Despite it being super-thin, the Acer Swift 7 (2018) has a larger touch surface display, measuring 14 inches – 7 inches larger than the previous model.
The cost? A price tag that will exceed £1,000 when it becomes available later in 2018. However, it's still unlikely that it will cost more than Apple's fully loaded MacBook Pro.
Google pulls out all the stops with it's 'Hey Google' showcase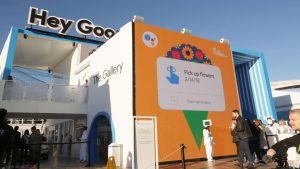 Google was not to be outshined by Amazon again this year, as it made obvious with billboards and adverts visible on almost every surface in Las Vegas The mega-corporation even had a massive three-story outdoor exhibit called Hey Google, complete with a rooftop coffee bar and a slide.
Google's goal with this exhibit was to promote the Google Assistant – and they certainly achieved bragging rights with the sheer volume of products they showcased that are equipped with Google Assistant.
From speakers and headphones by Sony to smart displays by Lenovo, there was no shortage of collaboration with Google and Google Assistant by other CES exhibitors.
Did Google go completely overboard with its guerrilla approach this year? Or was it exactly what the show needed to bring a little excitement?
LG's 'OLED Canyon' stuns delegates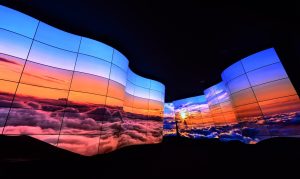 In 2016 we wrote about LG's rollable OLED TV prototype that was able to fold up like a newspaper.
This year at the CES, LG not only showcased a 65-inch rollable OLED TV, but it also stunned with an impressive and incredibly energy-inefficient display of over 240 curved OLED TVs made up to look like a canyon.
Whilst some thought the setup was garish and excessive, and that the 2018 TV models were not very aesthetically different from 2017's show, what did impress tech enthusiasts were the enhanced specs.
For example, all 2018 OLED TV models (except the B8) will be equipped with a new Alpha 9 processing engine which will apparently improve picture quality, specifically in terms of colour and motion.
The new processing power also allows for greater smart connectivity – i.e. joining all your smart home devices together in one place. It also has Google Assistant built in so you can also benefit from advanced voice control.
That's great news for you next-level TV lovers and smart-home fanatics.
Fisker shows off its new electric, autonomous-driving car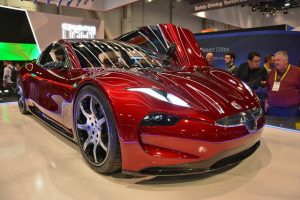 Fisker Inc.'s luxury electric car, the EMotion, certainly turned heads at CES 2018. It's sleek, shiny exterior and both front and back butterfly doors certainly brought the luxury element.
However, this car it wasn't all about the aesthetics. The prototype has a range of 400 miles per full charge and a top speed of 160 miles per hour. It's also equipped with a Level 4 autonomous driving system, which allegedly allows it to drive itself in any scenario.
The price tag? A whopping £94,500 ($130,000 USD).
The car is a prototype for now though, with its high-tech systems still in development. It is expected by the company behind the concept to be ready for shipment by the year 2020.
It wasn't all fun and gadgets at CES 2018
Despite the bright displays and sleek gadgets, it wasn't the most innovative or cutting edge CES that previous years have seen.
Most of the products on show at CES 2018 appeared to be enhanced models of existing technology, except with thinner screens and more powerful processors. Also largely absent from the show were substantial developments in mobile, drones, TV hardware and Augmented Reality.
However, the most newsworthy event of the exhibition happened on the second day of the show, when a power outage awkwardly left thousands of delegates and exhibitors in the dark for hours. It was blamed on a desert rainstorm, causing flash flooding across the city. Google must have been pleased, as the blackout drove hundreds of delegates to its outdoor showcase.
What did you think about the products showcased at this year's Consumer Electronics Show? Would you like to see more posts from Churchill Knight on technology and consumer products? Please leave us your thoughts in the comments below.