Private sector contractors' right to decide their own IR35 status is being taken away from April 2020 when they are engaged by a medium or large-sized client and working through an intermediary such as a limited company. With these changes coming into effect, it's good to know how end-clients and agencies may handle IR35 in such instances.
For example, what happens when a fee-payer ignores an end-client's IR35 decision on an engagement? What if the end-client does not provide a decision? How will end-clients in the private sector handle changes to IR35 in April 2020? We shed light on these questions and more.
In the public sector, and soon to be the private sector, the end-client is required to determine the IR35 status of each assignment involving contractors working through intermediaries. However, in some scenarios it's not quite that simple, as we have highlighted here.
What if an agency ignores an end-client's IR35 decision?
There's nothing actually stopping a 'fee-payer' (usually an agency) from ignoring an end-client's decision on IR35 for a contractor, and they can lawfully do so. This may not be ideal however as it increases liability for the fee-payer.
End-clients do have an obligation to inform the next party down the supply chain about their IR35 decision – this may or may not be the agency. The process works like this: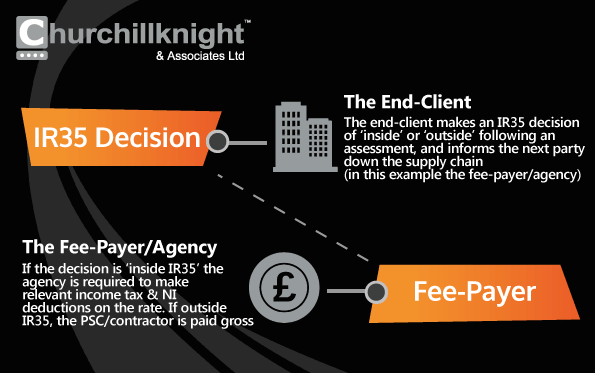 When informed of the end-client's IR35 decision on an engagement, the fee-payer is liable to deduct income tax and NI payments before paying the contractor/PSC. It's therefore futile for an agency to make income tax and NI deductions on behalf of a contractor if an end-client's decision is 'outside IR35'. Remember, this currently only applies to the public sector until April 2020.
What if a fee-payer (agency) ignores an 'inside IR35' decision?
Liability falls on the fee-payer in the event that it ignores the end-client's 'inside IR35' decision and continues to pay the contractor gross. It could fall foul of an HMRC investigation; it's potentially damaging for the contractor as well.
Under current IR35 legislation for the public sector, fee-payers hold the authority over how a contractor is taxed at the end of the day, and soon this will apply (with adjustments) in the private sector as well. However ignoring an 'inside IR35' decision is foolish and unlikely as an agency paying a contractor will try to minimise liability as much as possible.
What if the end-client hasn't informed the fee-payer of its IR35 decision at all?
Another possibility exists where an end-client does not make a decision on IR35 or does not inform the fee-payer (agency) of the decision. Such a scenario could play out like this: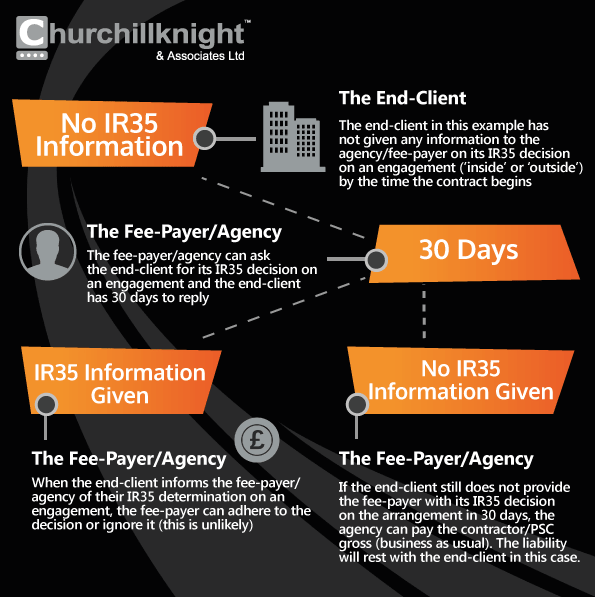 The fee-payer can actually choose not to act on the end-client's IR35 status decision. As such, switched-on agencies can actually help contractors whose engagements are incorrectly assessed by their end-client.
Again this puts liability on the fee-payer, so the odds of an agency ignoring an end-client's IR35 decision are low.
It is not clear whether any of the above will be different for the private sector come April 2020.
HMRC will have a technical consultation in early 2019 to consult on how exactly to apply changes to the Off-payroll working rules in the private sector.
Contractors could lose out in the end
Unfortunately, many clients in the private sector who simply don't understand IR35 will decide it applies. This will lead to undue tax for contractors who are truly self-employed. It will also cost end-clients more to take on contractors which could lead to a lower demand for them – at least initially.
Clients and agencies should be educated on IR35 to prepare for 2020
Off-payroll changes in the public sector were widely covered in recruitment media circles, so recruitment agencies should be more clued up on IR35 by now. Although, agencies who recruit only for the private sector will still need to put training and new processes into place before April 2020.
Many private sector end-clients may have no clue what IR35 is, let alone what is changing. From April 2020 clients will suddenly have an added liability and could be frightened into making blanket decisions. Contractors, agencies and suppliers alike should strive to educate clients on IR35 to make sure this is avoided.
The bottom line
Once changes to Off-payroll in the private sector arrive, private sector contractors who are deemed inside IR35 by end-clients will demand higher rates to make up for deductions – especially if they did not apply in prior engagements. Some contractors will be able to achieve this and some will not. Those that can't will be forced to either accept the engagement, find another role/agency or go permanent.
The bottom line is this – some end-clients will have to pay contractors more to get work done if they want to continue accessing a contingent workforce. Otherwise, productivity and growth could fall.
Do you have questions on Off-payroll working in the private sector? Read our special Budget blog for further insight into the announced IR35 changes.
Disclaimer: This document is being provided to you solely for your personal information. It is not intended for distribution to the press or any other media and may not be reproduced or redistributed by mail, facsimile, electronic or computer transmission or by any other means to any other person or body without the express written permission from a Director of Churchill Knight & Associates Ltd.
This document is not a substitute for specific legal, accounting or other professional advice or opinions on related matters and issues that arise and should not be taken as providing specific advice on any of the topics discussed.
The information contained herein has been prepared by using sources believed to be reliable. Whilst reasonable care has been taken to ensure that the facts stated herein are accurate, no representation or warranty, express or implied is made by Churchill Knight & Associates Ltd, with respect to completeness, correctness, reasonableness or accuracy of any information and opinions contained herein.
Without limiting the generality of the foregoing, liability for any negligent or innocent statement or misstatement in respect of the contents of, or any omission from this document are hereby expressly excluded. Churchill Knight & Associates Ltd has no obligation or liability whatsoever with respect to the information provided or any action or inaction of Churchill Knight & Associates Ltd or the recipient with respect to such information.