If you are an IT contractor looking to land your next contract role, it may be time to update and sharpen up your CV. Keeping your IT contractor CV updated and modern is key to catching the eye of recruiters and potential clients.
While having a recruitment consultant on your side to assist in finding contract roles is an advantage, it's the quality of your CV that will ultimately land you that first interview.
It is especially important as an IT contractor to strategise how you display and format your skills on your CV; you may have many impressive technical skills, but ensuring they are laid out properly and in an easy-to-read way is crucial.
Here are some helpful tips for writing a winning IT contractor CV:
1. Keep it brief
It is important to keep your CV to a maximum of two pages, as hirers hardly ever have time to read more than this amongst all the candidate CVs they need to get through. You can do this by ensuring all the information you include is relevant to the role you will be applying for, and writing in short-form sentences or bullet points rather than complete sentences.
Hirers will try to save time by briefly scanning over each CV, so it is important that any skills and experience you include stand out and are not muddled by other unnecessary words.
2. Include your key skills and qualifications near the top
It's a given to include your skills, training and qualifications on your CV, but keeping them near the top will ensure that your reader sees them at first glance rather than by scanning down your CV. This is especially important in IT as hirers may be looking for specific abilities such as PHP, JavaScript, SAP, etc. If the hirer cannot see the skills they are looking for straight away, they will likely pass on your CV.
3. Include your LinkedIn profile link on your CV
LinkedIn is a great tool in itself for finding new roles, but including a URL to your LinkedIn profile on your CV will provide access to more information about you that there may not be room for on your CV. It's likely that if the hirer is interested in you, they will end up looking at your LinkedIn profile anyway, so make sure you keep this updated and include all of your recent projects and roles on your profile. Your connections and past colleagues will also be able to 'endorse' you for certain skills, which recruiters and clients see as a bonus.
4. When writing about work experience, keep it brief and include your achievements
Make sure you only include the work experience that is most relevant to the type of role that you will be applying for. This is especially true if you are a career contractor, as it's likely that you will have a list of past contract roles that could stretch further than two pages. When including your specific work experience on your CV, try formatting it in this way:


Take the time to write about your specific accomplishments, such as 'completed a systems update within a tight one-month deadline' or 'project managed the IT team in implementing a new system'. Potential clients will take into consideration these achievements more than they will basic role responsibilities.
5. Consider creating a skills-based CV
IT is a very skills-oriented sector, so for some roles it may be wise to consider reworking your CV in a way that highlights the skills you used in a role rather than the responsibilities you undertook. This keeps it brief and specific at the same time and is ideal for specialised roles. See the following example:

You can see how important it is to tailor your CV to the type of role you are after. There are many different ways to format your CV, but as an IT contractor remember to highlight your specific skills so your reader sees them first and foremost. Don't forget to list your achievements and general abilities too (i.e. project management, working in a team, etc), as recruiters and potential clients still look for the overall package when it comes to placing a candidate.
Here are some further CV do's, don'ts and general statistics: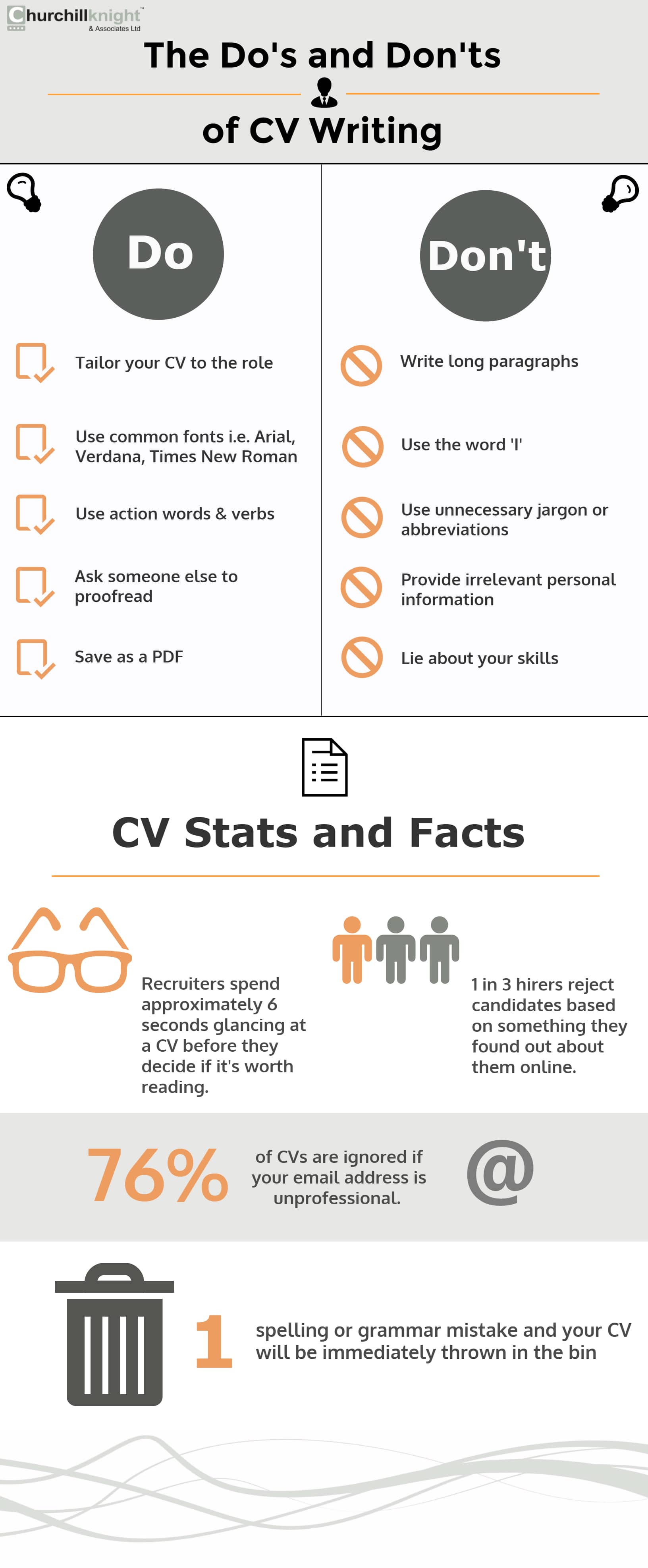 Are you an IT contractor? Get in touch with us today to find out how we can help you with your invoicing, payroll, bookkeeping and more with our bespoke contractor accountancy service. Contact us on 01707 871622 or try our take home pay calculator to see how much more take home pay you could have as an IT contractor.