The beauty of being able to work remotely is the freedom to choose where you work. Want to work from home, a community office space or even the beach? You can. We've put together a top 8 list of places in the UK to work remotely.
The freedom to work from wherever you like rather than a dingy, grey office is a great thing. However when the sun is out and the sky is blue it can be hard to find the motivation to work when you're at home.
We've put together an inspiring top 8 list of remote working locations across the UK, including outdoor locations where you can still enjoy the summer sun whilst you work.
Work remotely in London
1. Dalston Eastern Curve Garden – E8
The sprawling Dalston Eastern Curve Garden has plenty of space to work, allowing you to soak up the sun and greenery whilst getting on with your work. The tranquillity will boost your productivity, not to mention the space also has free WiFi, a heated pavilion, baked goods, coffee, beer and wine.

2. WeWork Mansion House – EC4R
Situated a stone's through away from Southwark Bridge, WeWork's Mansion House location is a stunning central London community office space. With onsite staff, high-speed internet, printing services, conference rooms and a canteen, you can get plenty of work done here. Plus its dog-friendly, and there is a rooftop terrace with views of St. Paul's Cathedral where you can take plenty of breaks. Hot desk memberships start at £400 per month – plus there are WeWork locations all over London, the UK and Europe.

Work remotely in Birmingham
3. Boston Tea Party – B4
The Boston Tea Party café is a great location to pop in early to get some work done. It opens at 7ams and has plenty of seating including booths, bar stools and comfortable armchairs. With free WiFi, a full breakfast menu, and coffee on tap you can find the motivation you need to tackle your to-do list. There's also some outdoor seating if the sun shows its face and a pub across the street where you can reward yourself after a hard day's work.

4. Impact Hub – B5
Impact Hub Birmingham is a 6000 square-foot urban collaborative workspace. Being a member of Impact Hub gives you access to comfortable workspaces, including quiet areas and spots where you can network and discuss business with other like-minded individuals. It also hosts regular social and business events for when you fancy a break. Day passes are £15 +VAT and monthly individual memberships start at £35 +VAT per month.

Work remotely in Leeds
5. Millennium Square – LS2
If the sun's out and you feel like mixing work with a bit of people-watching in Leeds city centre, venture over to Millennium Square. There is free WiFi throughout the square – but if you prefer sitting at a café or restaurant, try All Bar One or The Electric Press in the square.

6. La Bottega Milanese – LS1
La Bottega Milanese at Bond Court is a bright café and cantina with authentic Italian light dishes and Yorkshire coffee aplenty. It has plenty of indoor and outdoor seating as well as a 36-seat long table ideal for meetings and private functions. La Bottega Milanese has been recommended by many freelancers as an enjoyable place to work remotely.

Work remotely in Manchester
7. Ziferblat – M4 & M50
This co-working space has an incredibly unique concept – free tea, coffee, cake and WiFi, and you pay only for the amount of time you spend there. It costs 8p per minute for visits up to four hours, after which time you can use the space for free. So if you work remotely for around three hours, you'll pay just over £14. The Salford location is slightly nicer with a more modern design, however the Edge Street branch is centrally located near Manchester Arndale.

8. Takk – M1
In the Northern Quarter you'll find Takk – a Nordic-inspired artisan coffee shop with no shortage of wooden desks and authentic Iceland-style coffee. Its brick-walled interior gives off an industrial-chic, efficient vibe that has made it one of the most freelancer-friendly places to work remotely in Manchester.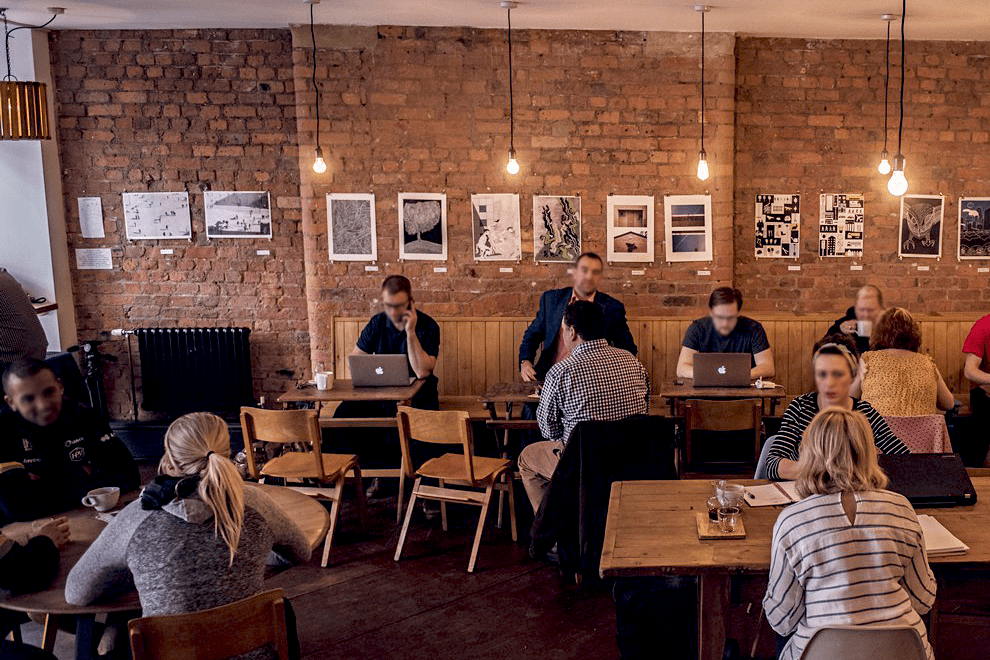 Working remotely is one of the many perks freelancers can get. If you don't have to work for your client in a set location, you have the freedom to choose the workplace that works for you whether that's home, a coffee shop, a library or even the park. Being able to find what inspires you is part of the thrill of freelancing.
Want to know how to become a contractor or freelancer? Download our FREE Ultimate Guide to Contracting for expert tips.